Invisalign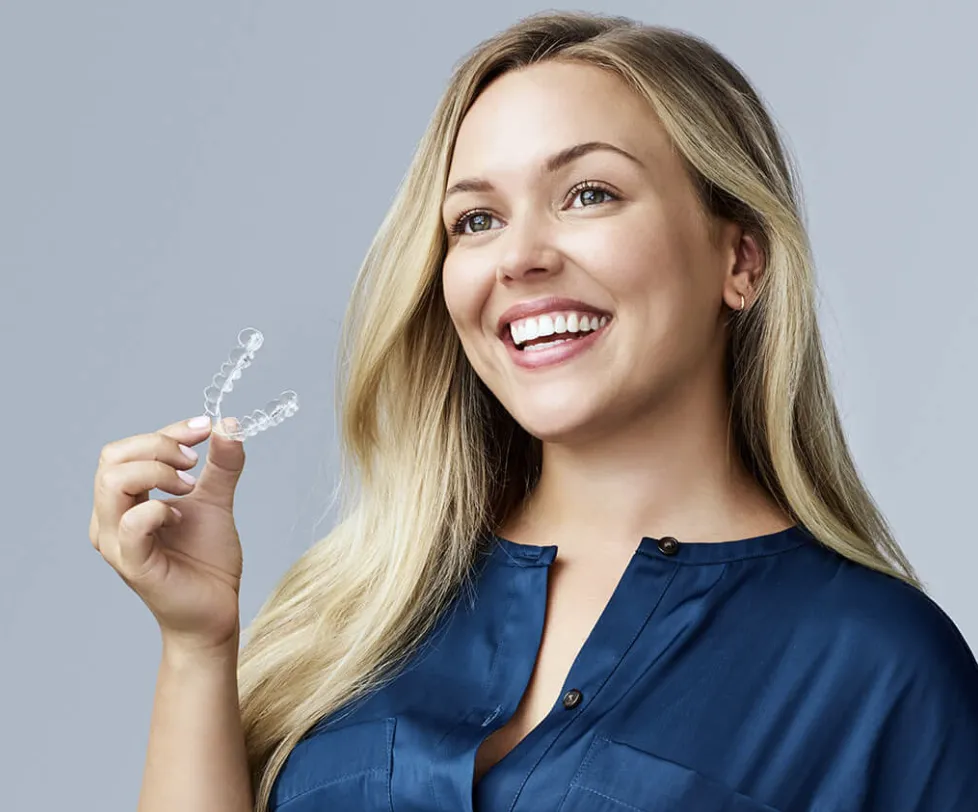 Getting Started with Invisalign
Deciding to have your teeth straightened is an important decision because it will not only impact your appearance but your lifestyle as well.
Women in Dentistry offers the full range of Invisalign, which is a series of transparent, removable orthodontic aligners that move your teeth in a gentle manner. Dr Nimisha has over 10 years of experience in assisting patients' smile transformations using clear aligner technology.
The Invisalign orthodontic system was developed by Align Technologies in the United States. This technology was introduced in 1999 and has been used to successfully treat millions of patients worldwide with a variety of orthodontic concerns. The Invisalign system uses established principles of orthodontic biomechanics to reach predetermined clinical outcomes. Treatment starts with a visualized tooth movement plan using our 3-D software.
We are proud to offer​ consultations with Dr Nimisha to create your own personalised plan and work out the best solution to help you achieve your smile goals!
What is Invisalign?
Invisalign is a system of clear, removable aligners individually customised for your teeth. Invisalign patients benefit from gradual changes of their sequential aligners, giving you more comfort as your teeth move. As the aligners can be removed at any time, you can still enjoy your favourite foods and easily keep on top of your dental hygiene.
You will receive a defined and clear treatment plan that shows you the gradual movements of your teeth during treatment, including a virtual 3-D simulation of how your teeth will look after treatment by Dr Nimisha. The virtual 3-D animation is part of a system called ClinCheck, which allows you to discuss your preferences and request any alterations to the position of your teeth, giving you control over the final result.
We offer a full range of Invisalign options:
Invisalign® i7.​ Designed to treat minor crowding of teeth, orthodontic relapse where previously treated teeth have partially migrated back to their original position), and for aesthetic improvements, however, does not treat back teeth.
Invisalign® Lite.​ Invisalign Lite is a shorter treatment span of up to 14 aligners and is a perfect option for relapsed orthodontic cases, minor or partial teeth corrections, or combining an aligner phase in an overall cosmetic plan. It is only applicable for those patients that can be treated in 14 aligners or less. Treatments that exceed 14 aligners may need to upgrade to an Invisalign Moderate case.
Invisalign® Moderate.​ For treatment of bite problems or crooked teeth that fall into this category and will take approximately 8-12 months to correct. This option includes up to 26 aligners to correct teeth alignment.
Invisalign® Comprehensive.​ is for treatment of severe bite problems or teeth crowding. This treatment option gives you maximum flexibility and is used to treat a wide variety of cases ("malocclusions"-see below). It includes an unlimited number of aligners to correct your orthodontic alignment.
Invisalign® Teen.​ Created especially for teenagers, with blue indicators that fade to clear (when it's time to change the aligners). The blue indicators also help to track the patient's approximate wear time. These aligners have been engineered with a modified design to fit around erupting permanent teeth.
Vivera Retainers.​ Help to maintain the position of treated teeth, preventing relapse of the teeth towards their original positions. Viveras are a clear thermoplastic retainer designed to be used after completing orthodontic treatment. Vivera retainers are manufactured using the advanced fabrication technology, resulting in a precise, smooth, and comfortable fit. Patients are issued with 3 sets of retainers.
What does Invisalign help our patients with? ​
This system can correct bite related issues, misaligned, rotated and overcrowded teeth.
A poor bite, technically referred to as 'malocclusion', refers to poor contact between the teeth as they bite together. Crooked teeth are one cause of this condition and treatment can have both aesthetic and functional benefits, including reduced wear of the teeth as well as prevention of jaw pain and headaches. Uneven gum levels can also be resolved once teeth have moved.
How does Invisalign work?
Each aligner applies biomechanical pressure on the teeth so that they move in a predetermined direction.
The movements are all planned so that they are gradual and gentle. It is important that these changes aren't done too quickly, which can increase the risk of the roots of the teeth weakening as they don't have enough time to settle after each tooth movement.
As each phase is completed, the aligner is changed and the above is repeated. Treatment is completed once we achieve the smile that we had planned for before we started our journey!
How does Clear Aligner Therapy compare to Braces?
Invisalign® is made of clear, medical-grade plastic, so the aligners are very difficult to see while they're being worn. The aligners are smooth, so they don't irritate lips and other soft tissues, and they can be removed for cleaning, making it much easier to brush and floss for better oral health during treatment. Plus, they can be removed for eating, so there are no dietary restrictions. Finally, because each aligner is custom-made for the individual patient, Invisalign® may bring teeth into alignment faster than traditional braces.
Orthodontic braces have long been the accepted treatment for teeth straightening, (and is still the preferred option for most complex cases);
however, Invisalign is a very popular alternative.
A summary of the key advantages of Invisalign treatment include:
Virtually invisible
Comfortable
You can remove them to eat, brush, and floss normally
Improved hygiene during treatment
A treatment option that easily fits in to your lifestyle (e.g. Treatment can be
tweaked to suit your requirements such as weddings)
The precision made aligners are less obtrusive to your soft tissues making
them irritation-free to your gums, cheeks and tongue
Most patients have reported minimal pain during their treatment
Patients can view their anticipated treatment result prior to the
commencement of treatment
Results are generally achievable between 6-12 months
The main disadvantage is that the treatment is only suitable for people that are compliant and prepared to wear the aligners for at least 22 hours plus a day. The aligners should only be removed for eating, brushing etc. and if this is not possible, the required movements cannot be achieved.
What can I expect when I start Invisalign?
First is your consultation with Dr Nimisha, where she will:
Discuss with you your dental needs and expectations to achieve the smile you are after.
Collect information including the health of your teeth and gums, photos, dental radiographs and models of your teeth in order to
create a digital plan for you to review
Discuss the plan with you including treatment time and cost required to achieve your goal. If you have a more complex orthodontic need
Dr Nimisha may offer other treatment options for you
This is a journey tailored to each individual's needs and can be different for everyone
Once you are happy with the computer software an order will be placed for your custom-made clear aligners. Between 18 and 30 aligners will be created for most patients.
During your treatment you will wear each set of aligners for 10-14 days and we will see you regularly along the journey.
At the end of your treatment, retainers will be provided for you to wear to ensure your teeth stays in the same position and your smile is maintained.
Does Invisalign® hurt?
As Invisalign works by applying gentle, controlled force on the teeth, the treatment does not hurt.
The aligners themselves are made from a special, flexible plastic which fit comfortably on the teeth without the irritation potentially caused by metal wires of traditional braces.
Some patients may experience a slight discomfort during the changing of aligners for a day or two. This can be easily treated with simple analgesics such as Paracetamol or Ibuprofen. However, in Dr Nimisha's experience, this
is rarely required.
How much does Invisalign® cost?
The cost of the treatment can vary between patients due to their personal requirements. Because we want to be as transparent as possible, we offer a high-quality professional consultation. There are many variables to pricing, which are best discussed with Dr Nimisha.
Costs for light cases generally start from approximately $5,000, which includes all diagnostics, aligners and Vivera retainers. Comprehensive cases can be in the range of $7,000-$8,000.
There are plenty of clear aligner therapies that are being marketed as cheaper and "do it yourself at home". We would recommend that if you are considering these treatments to seek professional advice before deciding on these options. Remember that moving teeth can lead to complications if not done properly and is always best done under the guidance of a trusted professional.
Does insurance cover Invisalign®?
Some dental insurances' provide at least partial coverage for Invisalign®, but other dental insurances do not. We can help provide the items numbers for you to find out with your provider.
When insurance doesn't cover the costs, we can space out payments during the term of your treatment.